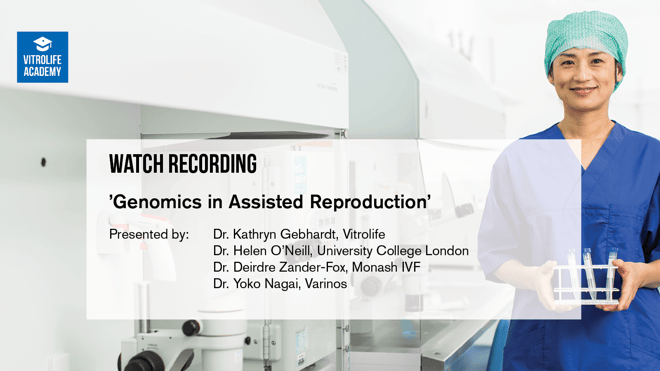 The use of genomics has the potential to further transform assisted reproduction. In this innovative and educational webinar we will discuss the latest technologies that have potential applications in IVF. Listen to our expert speakers who will share their experience of current and future trends.   

This live webinar was held in May 2020.
---
Genomics in Assisted Reproduction, Dr. Kathryn Gebhardt, Vitrolife.
Dr. Kathryn Gebhardt joined Vitrolife in 2019 from Illumina, where she was the regional sales specialist for preimplantation genetic testing and reproductive genetic health in Asia Pacific Japan. She has previously established an in-house PGT-A program in an IVF clinic in Australia, and has worked as an embryologist.
Genome Editing and future of Assisted Reproduction, Dr. Helen O'Neill, University College London, United Kingdom.
Dr. Helen O'Neill, lecturer in Reproductive and Molecular Genetics, University College London (UK). Her research focusses on preimplantation embryo development and the use of genome editing to assess understanding and treatment of disorders of infertility.
Moving niPGT-A from research into practise; the Monash IVF experience, Dr. Deirdre Zander-Fox, Scientific Director, Monash IVF (Australia).
Dr. Deirdre Zander-Fox is Monash IVF's Regional Scientific Director for Victoria and Malaysia. She has a long history with Monash IVF and Repromed (15 years experience), and has worked as a clinical embryologist and then Scientific Director of Repromed and Monash IVF Queensland. Deirdre is passionate about research and delivering high quality IVF to patients.
Investigating the Reproductive Microbiome for IVF, Dr. Yoko Nagai, CTO & Co-founder, Varinos Inc (Japan
Dr. Yoko Nagai is an expert in population genetics and microbiome leading the team at Varinos, an award winning service laboratory based in Tokyo that specialise in next-generation sequencing based genetic testing.
---