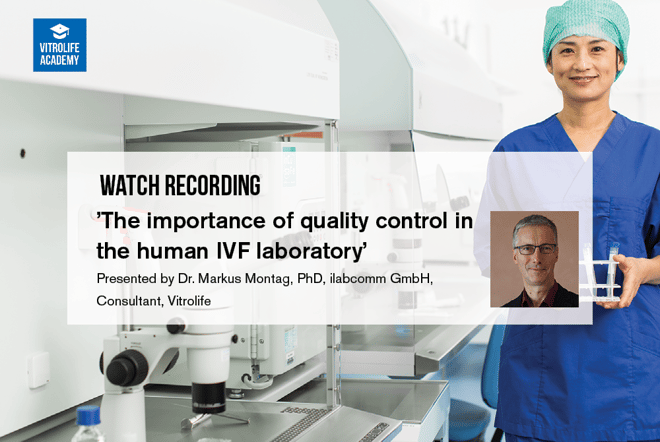 Today´s IVF laboratory is a sophisticated environment where many different procedures involving specifically designed equipment and products are performed by trained personnel. Consequently, the number of variables in the laboratory that are involved in an IVF treatment cycle, including fresh and frozen embryo transfers, is in the range of 200 or more. The major concern in all IVF laboratories is, how to keep up the success rates at a high level and without fluctuations. Dedicated staff is one answer to this – a successful quality control program is the other.
In this recorded webinar, Dr. Markus Montag will discuss various aspects of quality control. The importance of osmolality, pH, temperature control, air quality, workflow, embryotoxicity and various other laboratory aspects will be explained. Examples will illustrate on how these variables can influence the development of embryos and/or the clinical outcome. Suggestions will be given for routine quality control processes and their importance in view of trouble shooting.
---
Presenter - Dr. Markus Montag, PhD

Markus is a well-known researcher in the field of IVF, where one of his specialities is time-lapse. He has more than 20 years' experience as Lab Director. Markus spends his time working as a consultant for IVF centres around the world and also for Vitrolife.